Skillshare - Design Thinking Workshop
by TYTHEdesign on 07/01/11
Article written by Kristina Drury of TYTHEdesign
This past Monday, TYTHEdesign taught our first workshop with Skillshare "Design thinking techniques for non-profits & entrepreneurs: learn how to think quickly on your feet and solve problems through design." The participants who attended were from a spectrum encompassing social ventures, entrepreneurs, marketing and non-profits. We focused on how design thinking can be used to solve real world problems and emphasized techniques that can be used by designers or non-designers to approach every day challenges. The workshop was taught through a case study: parents struggling to bring baby-carriages down the stairs at MTA stations with no elevators. Using this case study, the participants were able develop empathy for the client/need, brainstorm ideas, push them to their limits, and pilot test them to determine the ones worth developing.

To see more pictures from the party, check out our flickr page

We focused on three main learning points throughout the workshop. We first focused on 'how to do empathetic research': empathetic research gains a deep understanding of how people live their lives. We focused in the workshop on how to quickly understand who your client is, what their needs are, what we don't know about them, and how to take the next steps to understand the clients better. From a design thinking perspective it is always important to understand your clients in order to develop realistic solutions, but it is also important from a marketing or non-profit perspective to understand why someone would purchase something and what factors influence their behavior. This section of the workshop was really interesting for me, because I received many questions about the process and how to reach out to a community if you don't have direct access with them. I realized how fortunate TYTHEdesign has been that we work directly with most of our clients in communities, and the challenges of using design thinking from a distance.
We secondly focused on 'how to team-design': learning how to bring a range of individuals together to co-create solutions that meet the needs of the community or people using the service or product. Within the workshop we did rounds of massive brainstorming and ideation for solutions to the issues. It was an important stage within the design thinking process to emphasize that 'any idea is a good idea' and not to get stuck on the details. It was interesting to watch the participants suggest only physical solutions and realized that if we run this workshop again, it will be important to emphasize that solutions can not only be physical by systematic as well.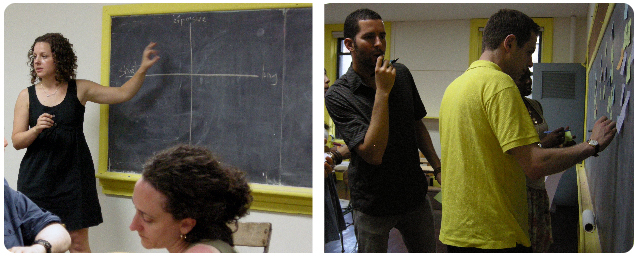 Lastly we focused on 'how to choose an idea': learning how to narrow down ideas without getting overwhelmed by the small details, the costs and negativity. After the large level of brainstorming, the participants categorized their solutions into a value matrix along the dual axes of 'inexpensive versus costly' and 'short time frame vs long'. Participants learned through practice how this matrix can be used in business strategies in their own organizations.
Looking back this was a great experience on our end. As a designer I realized that I take for granted how easy it is to come up with many solutions or put myself in someone else shoes. I need to keep in mind that while this is probably going to always be easy for me, it won't necessarily be easy for others and I need to consider how to provide more support to the participants in this area. We are planning to teach a similar workshop again in August and we hope not only to help others use these techniques in their organizations, but also to learn from this experience to make the workshop stronger. Thanks to everyone who came out to the workshop, and many thanks to Allegra DeAngelo for assisting and taking pictures.